ARE HD Series
Commercial Fiberglass Truck Cap
The ARE HD seires is the strongest, most durable commercial fiberglass truck cap. Available for the CX and MX Series cap profiles, the ARE HD Series features an internal skeleton which triples the weight capacity of the roof rack and side toolboxes. If you test the limits of your truck, and need your cap to be up for the challenge, the ARE HD Series truck cap is the only choice!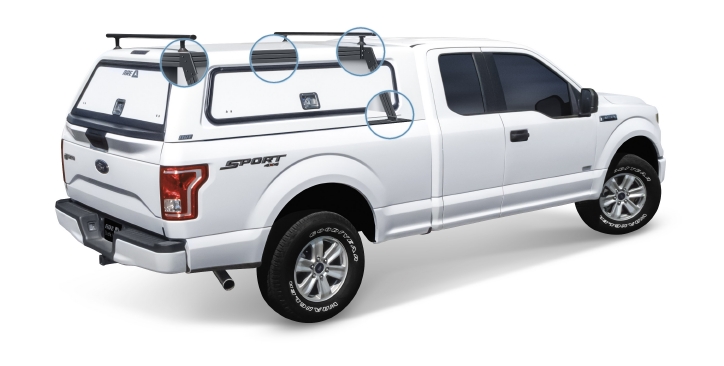 Internal Aluminum Skeleton
F2 Mitered Half Slider Screened Side Window
Heavy Duty Rear Door
Front Picture Window
Recommended Options
Other Available Options

Aluminum Paneled Windoor w/ Foldable T-Handle & BOLT One-Key Technology
Aluminum Paneled Rear Door w/ Foldable T-Handle & BOLT One-Key Technology
HD Series Roof Rack (weight capacity of 550lbs)
Diamond Plate Toolboxes (weight capacity of 200lbs)
T-Nut Kit for Internal Skeleton Mounting

Aluminum Paneled Windoor
The Outdoorsman Windoor (vented)
Windoor (Solid Glass)
Screen Vent
Aluminum Paneled Rear Door
Single T-Lock Heavy-Duty Rear Door
Double T-Lock Heavy-Duty Rear Door
Full Fiberglass Walk-in Door
Sliding Front Window
Compression Front Boot
Fabric Headliner
LED Lighting
Yakima Roof Rack
Rod Pods
Rival by A.R.E. LED Light Bar (MX Profile Only)
Does a Cover Affect Fuel Economy?

Do the Math!
According to these studies, it does…
From the SEMA Research and Information Center –
According a study conducted by Western New England College's Department of Mechanical Engineers, "The best way to reduce drag, and improve gas mileage for pickup trucks, is to add a tonneau cover." Their study yielded gas mileage savings of 8% by adding a tonneau cover to a Dodge Ram.
From Auto Trim & Restyling News – August 2001
From "Tailgate Talk – Does Removing A Tailgate Affect Fuel Economy?"
By Bruce W. Smith
According to many experts, the best way to improve a pickup's fuel economy is to leave the tailgate up and cover the bed with a quality aftermarket Tonneau cover. "Tonneau covers on pickup boxes reduce aerodynamic drag," said Ford's Jack Williams. "We've seen reductions of about 8 to 10 percent on the F150. The average steady-state [cruise control] fuel economy improvement at highway speeds is closer to 5 percent."