Prime Design has been the industry's ergonomic leader since 1992, when they first introduced the concept of an ergonomic ladder rack. Based in West Saint Paul, MN, Prime Design is the leading innovator of ladder storage solutions for fleet vehicles. When loading a ladder, these solutions help reduce back and muscle strain while keeping feet safely on the ground.
All Prime Design products feature patented designs that greatly reduce operator stress and fatigue, reduce the risk of work-related injuries, and increase worker productivity.

ErgoRack
Lightweight, Safe and Easy
The ErgoRack is designed to reduce muscle stress, eliminate risk of injury and speed the job of loading and unloading ladders from a work van.
 Easy to use-Deploys with only 2 fingers
 Reduce Injuries-Eliminates slip and fall hazards from climbing on bumper or tire
 Improve Productivity-Deploy or stow in less than 20 seconds
 Safe Operation-Feet stay safely on the ground.
 Reduce Back Strain-Reduce back and muscle strain from improper loading.
 Smooth Operation-Hydraulic cylinder provides smoothest, controlled descent of any rack in the industry.
 Maintenance-Maintain vehicle warranty and resale value with no holes to drill.
 Award Winning-Winner of ergonomic awards in USA, France, Germany and Australia.
Ergo Rack Brochure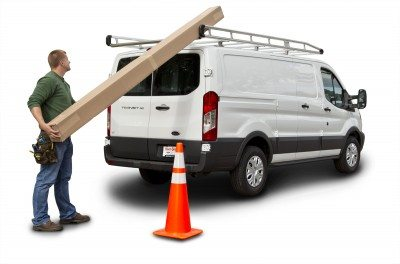 Improves Productivity-Easily unload and load cargo with assistance from the standard rear roller.
 Enhance-Durable, lightweight anodized aluminum enhances vehicle's professional image.
 Maintenance-Maintain vehicle warranty and resale value with no holes to drill.
 Options-Provides the most versatile way to transport your cargo.
Alu Rack Brochure

DeployPro™
Safe, ergonomic, and productive
Upgrade your fleet vehicle's ladder storage solution with the DeployPro™ system – the industry's only ergonomic, rear deploying solution for safe and productive fleet vehicles.
The rear deploying design allows the user to safely load and unload ladders from behind the vehicle, shielded from potential road hazards or traffic. The system's ergonomic features help to protect the operator from muscle stress, strain and fatigue.
This system mounts to the crossbars of a compatible ErgoRack. Get your fleet or business started today on the road to safety and productivity.
 Safe Operation-Stow and deploy ladders from the rear of the vehicle, safely away from potential road hazards
 Easy to Operate-Adjustable, removable handle for user defined positioning and secure ladder deployment
 Reduce Injuries-Eliminates slip and fall hazards from climbing on bumper or tire
 Ergonomic-Integrated hydraulic cylinder for controlled ladder deployment and gas assisted lift for easy stowing
 Aluminum Design-Lightweight aluminum construction with stainless steel fasteners for durability and longevity
 Adjustable-Factory assembled for a quick upfit with adjustable ladder support bars to fit your fleet vehicle and ladders

Professional Truck Rack
Lightweight, Truck Tough
The Professional Truck Rack™ is lightweight, yet rugged enough for the construction site. It works hard and plays hard, and can carry the necessary equipment for both.
The ergonomic design helps keep employees safe and worker compensation claims low, while the patented base model mounts easily to the truck bed and transfers from vehicle to vehicle.
 Easy to switch-When you change trucks, take the rack with you!
 Easy to install-No holes to drill.
 Easy to load-Unique roller wheel option makes loading bulky cargo easier and faster.
Truck Rack Brochure