ARE CX Revo Series
Fiberglass Truck Cap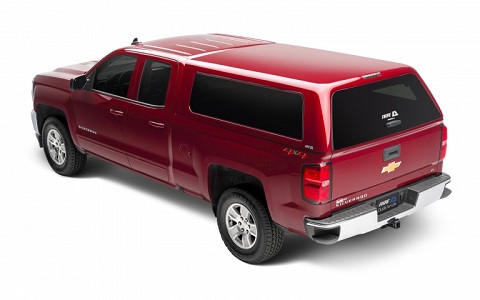 Introducing the ARE CX Revo! Meet your truck's match. ARE's newest generation reinvents what you thought you knew about truck caps. With the industry's first tailgate formed rear door, frameless side windows and OneMotion™ handle design the Revo generation is made for today's trucks.
STANDARD OPTIONS
AVAILABLE OPTIONS
Finish:

OTR (Spray-On Black Coating)

Side Windows:

Frameless Sliding
Frameless Sliding with Screen
Frameless Sliding with Pet Screen
Frameless Sliding with Screen and Pet Screen

Front Window:

Frameless All Glass
Aluminum Framed Tilt-Down Picture
Aluminum Framed Tilt-Down Sliding
Compression Boot

Rear Door:

Frameless Tailgate Formed

Frameless Tailgate Formed with Keyless Entry

Rear Door Handle:
Interior:
Interior LED Lighting:

12v LED Rope Light with Active Tilt

12v LED Dome Light
12v LED Dome Light with Center Rope Light
12v LED Dome Light with Active Tilt and Center Rope Light
12v LED Dome Light and Dual Rope Lights
12v LED Dome Light with Active Tilt and Dual Rope Lights

Clothes Rod:
Cap Bottom Edge:
Roof Racks
CURRENT AVAILABILITY
2015-CURRENT F150
all cabs & bed lengths

2014-2018 SILVERADO & SIERRA
all cabs & bed lengths
(excludes dually)

2016-CURRENT TACOMA
all cabs & bed lengths
Does a Cover Affect Fuel Economy?

Do the Math!
According to these studies, it does…
From the SEMA Research and Information Center –
According a study conducted by Western New England College's Department of Mechanical Engineers, "The best way to reduce drag, and improve gas mileage for pickup trucks, is to add a tonneau cover." Their study yielded gas mileage savings of 8% by adding a tonneau cover to a Dodge Ram.
From Auto Trim & Restyling News – August 2001
From "Tailgate Talk – Does Removing A Tailgate Affect Fuel Economy?"
By Bruce W. Smith
According to many experts, the best way to improve a pickup's fuel economy is to leave the tailgate up and cover the bed with a quality aftermarket Tonneau cover. "Tonneau covers on pickup boxes reduce aerodynamic drag," said Ford's Jack Williams. "We've seen reductions of about 8 to 10 percent on the F150. The average steady-state [cruise control] fuel economy improvement at highway speeds is closer to 5 percent."